HEALTHY KIDS, EMPOWERED ADULTS, ENGAGED COMMUNITY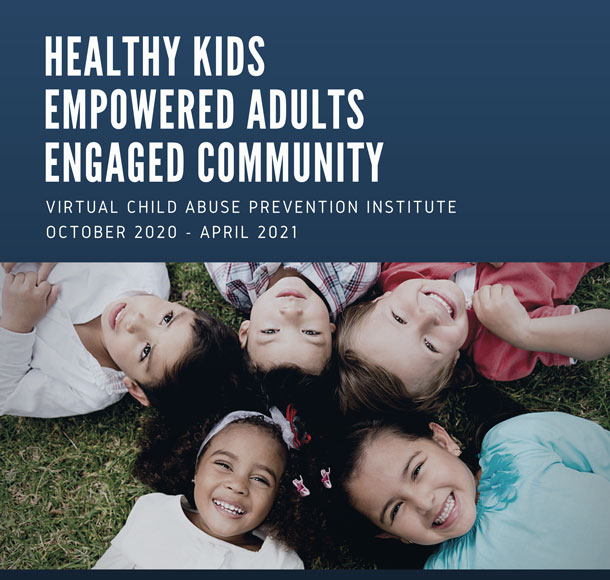 Healthy kids, empowered adults and engaged communities are essential to prevent child abuse. This virtual prevention institute is designed to engage supportive adults and professionals throughout Napa County in child physical and sexual abuse prevention. The Napa Courage Center and NEWS Domestic Violence and Sexual Abuse Services have collaborated to offer a series of virtual education sessions from October 2020 through April 2021 in order to strengthen our community's capacity to protect children from harm.

We kick off our virtual prevention institute with Darkness To Light. Darkness To Light is a leader in child sexual abuse prevention and uses the power of behavior change to protect children. This four-part training will focus on the prevention of child sexual abuse, and is designed for parents, caregivers, and anyone who works with children.
Session 1: Healthy Touch for Children & Youth – Thursday, November 12th, 2020, 4-6pm
Understanding boundaries makes us more mindful about how we interact with children. This session teaches some guidelines for healthy touch and safe, respectful ways to interact with children.
Session 2: Talking with Children about Safety from Sexual Abuse – Thursday, December 3rd, 2020, 4-6pm
Having age-appropriate, open conversations about our bodies, sex, and boundaries is an important step in protecting children. Talking about personal safety and sex creates a protective bond between children and their caregivers. Participants in this session will learn how to talk with and listen to children about sexual abuse and personal safety.
Session 3: Protecting Children During a Crisis – Thursday, January 7th, 2021, 4-6pm
We need to be prepared to continue protecting kids to the best of our ability under any circumstances. This session is designed to help supportive adults navigate through the unusual circumstances we face during times of crisis and strategies to protect children.
Session 4: Commercial Sexual Exploitation of Children – Thursday, February 11th, 2021, 4-6pm
The commercial sexual exploitation of children is an egregious human rights, public health, and criminal justice violation that occurs every day across the U.S. This training explores the root causes of exploitation and why preventing sexual abuse is important to reducing risk of children being sexually exploited.
Facilitator: Tracy Leonard
Tracy has been a Darkness to Light Authorized Facilitator for 6 years and Certified Instructor for 3 years having trained over 1,200 adults. Her newest venture is as the Principal and Owner of Safe Spaces www.sfspcs.com, a firm focusing on creating resilient families, communities, and organizations through workshops, trainings, technical assistance and consulting.