A Game Plan to Prevent Violence in Napa County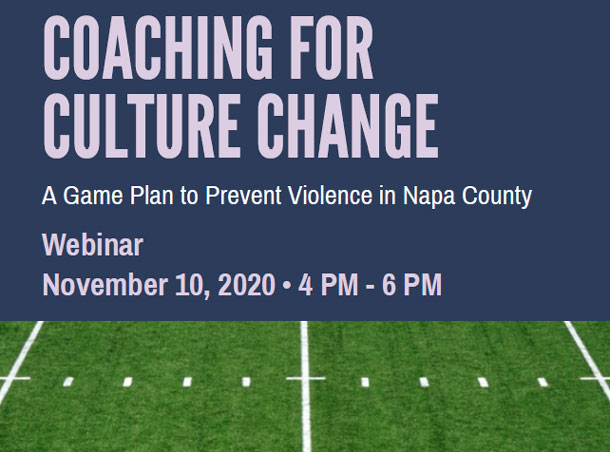 At NEWS Domestic Violence and Sexual Abuse Services, we leverage the power of sports to end violence.

Coaching for Culture Change: A Game Plan to Prevent Violence will provide an overview of the NEWS About Sports game plan and two evidence-based prevention programs, Athletes As Leaders and Coaching Boys into Men, that we use to educate athletes about healthy relationships.

Each day teenagers around the country experience various forms of abuse. In fact, 1 in 3 teenagers report knowing a friend or peer who has been physically hurt by their partner. Our NEWS About Sports game plan engages coaches, athletes, athletic administrators and mentors in taking a stand against relationship violence using these powerful prevention programs.

Our diverse panel of advocates, coaches, student athletes and administrators will discuss the role sports can play in preventing violence. Participants will learn how to educate athletes about healthy relationships and empower them to create a culture of healthy values and positive social norms.

During this difficult and uncertain time, youth and young adults have been separated from the safety and enjoyment of their teams and coaches. Whether your program is virtual, in-person or hybrid, now is the time to come together to focus on how we can strengthen our connection with athletes, provide them with support and give them the skills they need to form better relationships and create a culture of respect.

Who May Attend:

This event is free and open to any coach, athletic director, administrator, team mentor, educator or advocate in Napa County who wants to learn about the NEWS About Sports initiative and/or implement Coaching Boys into Men or Athletes As Leaders with athletes.

All attendees will receive a special gift from NEWS and have a chance to win a Visa gift card.
Zoom Register Link: https://us02web.zoom.us/webinar/register/WN_b5JZgykLRgy0ozvt-lbPqA