Blue Ribbon Champions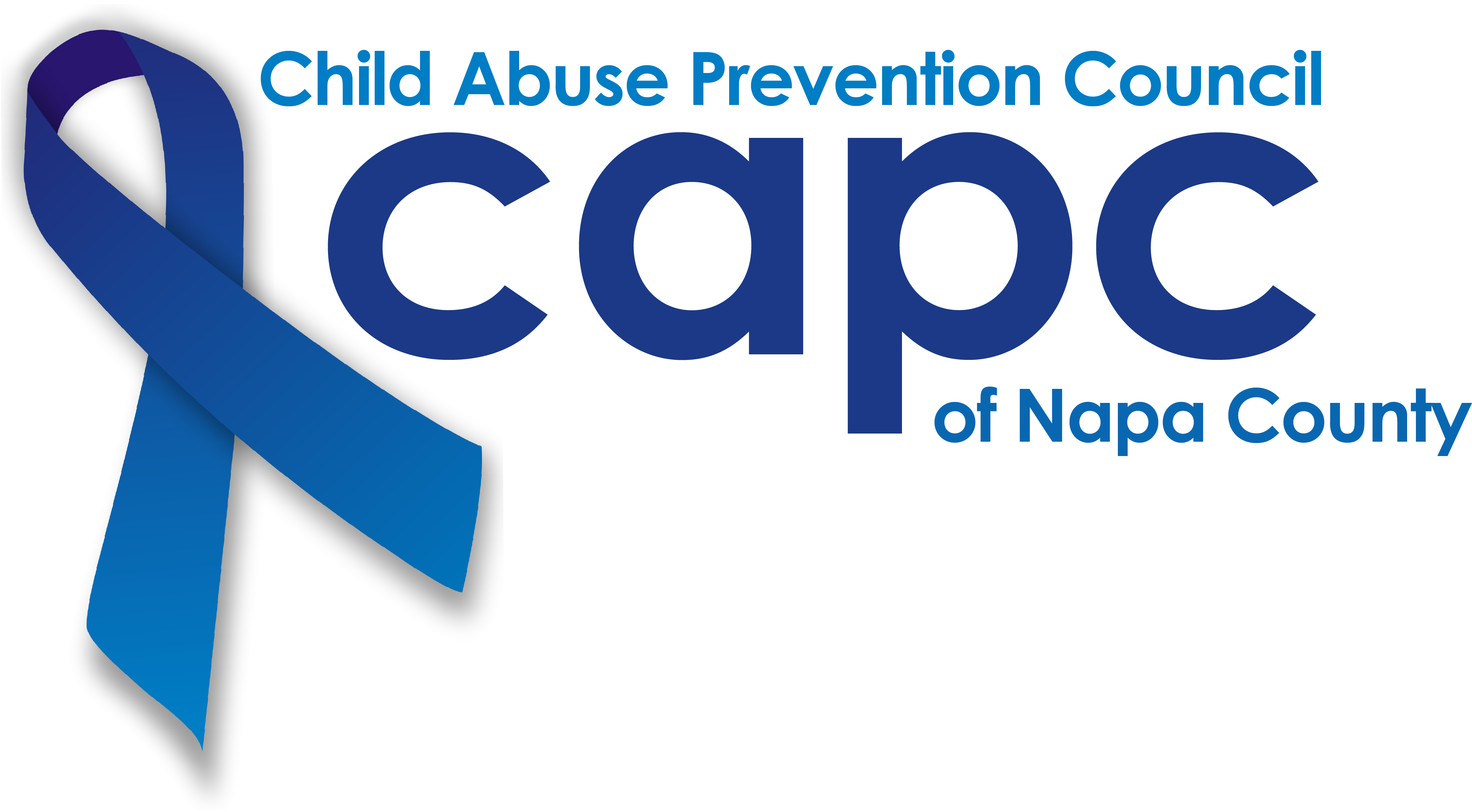 Honoring individuals who promote children's health development by preventing abuse and neglect.
In recognition of Child Abuse Prevention Awareness Month, in April 2020, the Child Abuse Prevention Council (CAPC) of Napa County honored individuals from across the valley for exceptional contributions to the prevention of child abuse and neglect.
The vision of the Child Abuse Prevention Council of Napa County is that we are a mirror of our unique community, reflecting our diversity, resilience and hope. We use innovation, creativity and collaboration to build a nurturing and safe environment for every child, family and future generations in our community and beyond. Through a commitment to teamwork, communication and coordination, CAPC can accomplish what no one individual or organization can do on its own. Through the support of family-oriented, community-based prevention, awareness, education and training programs, CAPC members strives to improve the health, safety and well-being of all children in Napa County.
Blue Ribbon Champions are shining examples of people working in Napa County to prevent child abuse and neglect by strengthening families. The Blue Ribbon award is an opportunity to honor champions for children across the valley who work tirelessly, often without fanfare or recognition, to improve the lives of our most vulnerable citizens.
---
2020 Blue Ribbon Champion: Law Enforcement
Thomas Kvamme, Napa Police Department
As a peace officer for nearly nine years, Napa Police Officer Thomas Kvamme has responded to countless calls and has handled numerous cases involving children in Napa County. As a detective in his most recent assignment with the Napa Special Investigations Bureau, Officer Kvamme identified a need to investigate human trafficking in Napa County, for the first time in our county's history. He proactively educated himself about the sub culture of the sex trade, the tactics of victimization, and resources available for victims. Officer Kvamme quickly made himself an expert on the topic. He investigated the county's first ever human trafficking case, as well the county's first human trafficking of a minor case. He located the victims, connected them with services, and brought their abusers before the court.
According to District Attorney Allison Haley, "Officer Kvamme is passionate about fighting human trafficking, and that dedication yielded real results in our county. Thanks to Officer Kvamme's leadership, our county's entire criminal justice system is better equipped to successfully investigate and prosecute these cases."
---
2020 Blue Ribbon Champion: Youth
Mariana Diaz, Teens Connect Senior at New Technology High School
Mariana Diaz, a senior at New Technology High School, has been part of the Teen Council for Teens Connect since its inception in 2017. Mariana is currently serving as the Teen Council Vice President and helps design and implement programs in our community. Mariana helped write the mission statement and bylaws that determined how the council wanted to support middle and high schoolers in Napa County. She originally joined our teen council because she had a friend who struggled with depression, and she wanted to learn ways to support her, as well as help create a community of support for others like her friend.
Teens Connect Executive Director, Jeni Olsen says, "Mariana is a quiet yet powerful voice for children and teens, a critical thinker, and a lover of humanity. She brings her whole, authentic heart and soul into everything she does."
Mariana became certified in Youth Mental Health First Aid, a training that helps teens recognize the signs of young people in crisis and helps direct them to support and services. She is a youth advocate for mental health in and out of school. She volunteers with projects that help the homeless, children, and the environment. She is an advocate for social justice and willingly takes leadership roles in everything she does and inspires her friends to be involved in projects that help our vulnerable communities.
---
2020 Blue Ribbon Champion: Up Valley Professional Advocate
Greg Bouillerce, Boys & Girls Club of St. Helena and Calistoga
Greg takes great pride in ensuring that Boys & Girls Club sites are some of the safest in the Nation. His leadership was paramount in bringing child abuse prevention measures to the Boys & Girls Club organization where he spearheaded a local effort to educate staff and parents. He is tireless in his pursuit of perfect safety and supervision, and does so because he deeply cares about the children of St. Helena and Calistoga.
Greg worked directly with children for nearly 10 years before taking on an administrative role, where he is now largely anonymous to the kids who attend Boys & Girls Clubs. This has not changed his passion, empathy, and love for making sure that all kids who attend the Clubs are heard, loved, and safe.
The policies, trainings, and procedures that Greg oversees ensure that children served feel secure and safe with staff, so that if the occasion arises to disclose abuse, they feel safe in doing so. "Without Greg leading the way in these areas, our organization would not be able to spot abuse, prevent abuse, or help those being abused in the manner in which we do, " says Nick Haley, Director of Program Services for Boys & Girls Club of St. Helena and Calistoga.
---
2020 Blue Ribbon Champion: Up Valley Professional Advocate
Cristina Avina, UpValley Family Center
For over 10 years, Cristina Avina has been providing support, encouragement, and empowerment to families throughout St. Helena and Calistoga. As the Family Services Coordinator for UpValley Family Centers, Christina works directly with families to provide referrals, emergency assistance and crisis counseling. Cristina brings additional experience in excellent customer service and community care.
Cristina is currently working towards a Bachelor's Degree in Social Work. She has a certificate as a Domestic Violence Counselor, a certificate on Suicide Prevention and is an accredited provider of Triple P (Positive Parenting Program). She has always had a passion for helping others, especially children and has made countless contributions to families in the UpValley community. Shea Hunter of NEWS Domestic Violence and Sexual Abuse Services says, "we are honored to have Christina work with these families and applaud her efforts to improve the lives of those she touches."
---
2020 Blue Ribbon Champion: Professional Advocate
Elizabeth Alfaro, NEWS Domestic Violence and Sexual Abuse Services
In Napa, children who have experienced domestic violence and sexual abuse in their lives have a mentor in – Elizabeth Alfaro. As the KEDS Program Coordinator at NEWS, Elizabeth finds joy and personal fulfillment in creating a safe place for children who have seen and heard violence and abuse. For the past 3 years, Elizabeth has continually worked to excel her KEDS Support Groups, which serves children exposed to violence every week. Throughout the year, Elizabeth facilitates over 45 support groups and offers compassionate support to approximately 200 children.
Kids in the program have a lot on their minds. Through an activity Elizabeth created called, Miss Grace, kids can write a note and ask a question of Miss Grace, and receive an answer the following week. Questions like, "My mom is letting my dad come back home and I am scared, what should I do?" or "I can't seem to focus on my homework and I think I am going to get bad grades, what should I do?" These are questions the kids might not feel they can talk about anywhere else. Elizabeth is trained in "A Window between Worlds" and uses art, guided imagery and other activities to offer a means for expression when kids can't find the words. Elizabeth also initiates an annual backpack drive she calls "Bring Cool Back to School" and personally got donations of Jansport Backpacks, hair cut certificates, and school supplies for 100 students last year. She also has raised funds for school clothes and emergency needs for kids.
According to NEWS' Executive Director Tracy Lamb, "Elizabeth is a tireless advocate for children who have suffered the effects of violence in their young lives. She goes above and beyond to find every resource possible to wrap around these children and give them as much of a chance to not only survive but thrive…today, tomorrow, and throughout their lives!"
---
2020 Blue Ribbon Champion: Professional Advocate
Rose Perez, Aldea Children & Family Services
As a mental health therapist for Aldea Children & Family Services, Rose Perez repeatedly goes above and beyond to help her clients to feel safe and promotes a strong rapport with the children she sees. Mrs. Perez ensures that her role as mandated reporter is taken seriously, especially for any client that self-discloses any behavior that might be harmful to a child in numerous cases. Mrs. Perez has been instrumental in bringing light many to child abuse cases in our community.
According to Sharon DeMarco, Program Director of Napa's Child Advoacy Center, "Mrs. Perez's commitment to her clients extends way past office hours - to assist in educating caregivers regarding being trauma informed overall and to recognize red flags. " She is known to bridge language barriers and simplify critical and clinical information to monolingual families in our community. Mrs. Perez has been a key support to victims/survivor through initial case reporting, as well as the follow up case management and client healing in the form of mental health treatment. Her team approach allows for her to put care coordination as "top priority" in treatment to build a supportive and strong foundation for recovery.
IT'S TIME ... TO TALK ABOUT IT! CONNECT. RESPECT. PREVENT SEXUAL VIOLENCE AND CHILD ABUSE.