NEWS About SPORTS
NEWS About Sports: A team approach to ending sexual violence through sports
Sports play an important role in shaping our culture and can take a critical role in preventing sexual violence
NEWS About Sports focuses on the positive influence of sports in the lives of children and young adults participating in athletic programs across Napa County. Our proactive approach cultivates healthy individuals, teams and communities using evidence-based violence prevention education. We teach young athletes that violence never equals strength.
We believe coaches can play an influential role in the lives of young athletes. Because of this unique relationship, coaches are poised to positively impact how athletes think and behave on and off the field. Whether in talks with the team, practice sessions, game days, or simply casual conversation, coaches have numerous opportunities to teach early and often that violence has no place in relationships.
NEWS About Sports staff are certified trainers in curriculum proven to increase protective factors against violence for athletes of all ages and genders. Our staff provides coaches with the tools they need to address critical topics with their players and empowers athletes to model healthy, respectful behaviors for their peers.
Common outcomes we see from athletes participating in our program include:
Increased ability to identify disrespectful behaviors
Positive attitudes that promote gender equity and inclusion
Willingness to intervene when witnessing abusive behavior among peers.
Our NEWS About Sports game plan includes partnering with local leaders in sport to help them build gender-based violence prevention education programs within their organization. We are available to host workshops with athletic departments, teams and parents so they can understand violence prevention within sports culture.
---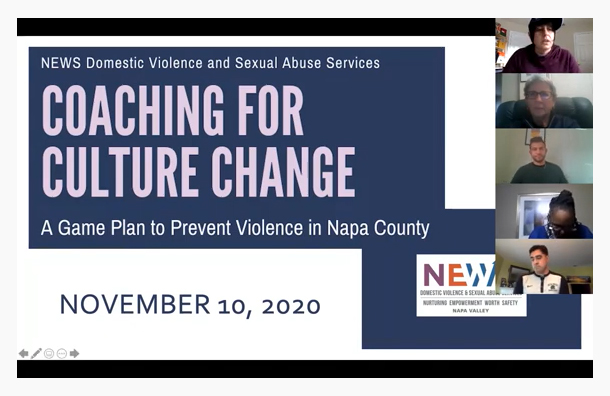 You do not need an advanced degree to help prevent violence! Check out our webinar Coaching for Culture Change: A Game Plan to Prevent Violence in Napa County.
This overview webinar is for coaches, athletic directors, team mentors, advocates, and community members who want to know more about the NEWS About Sports program and approach. You'll learn about the two evidence-based violence prevention programs, Athletes As Leaders and Coaching Boys Into Men and how they are used to educate student athletes about healthy relationships and consent.
---
Engaging Leaders:
Coaching for Culture Change: A Violence Prevention Game Plan is a workshop to help leaders in sport understand sexual violence prevention within sports culture. Through an interactive presentation, discussion and activities, participants explore the dynamics of sexual violence and the many beliefs, attitudes and behaviors that contribute to a culture that perpetuates violence. This presentation gives an overview of the Coaching Boys Into Men and Athletes As Leaders violence prevention curriculum.
Engaging Boys and Men:
Gender based violence needs to be approached as a men's issue. It is through work with men and boys that we can help end violence against women.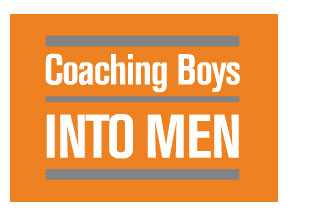 Coaching Boys Into Men (CBIM) is an evidence-based curriculum that trains athletic coaches to use their influence to build character, promote healthy relationships and prevent sexual and dating violence with high school and college male athletes. Over the course of an athletic season, CBIM coaches lead their players through brief, weekly activities that address topics such as personal responsibility, respectful behaviors, relationship abuse, insulting language, consent, digital abuse, and what it means to "be a man".
Engaging Girls and Women:
Many of our schools and sporting organizations are all gender institutions. In an all gender setting it is important for everyone to participate in a relationship-violence prevention program. In addition to engaging boys and men we also engage girls and women in violence prevention.

Athletes As Leaders is a Coaching Boys Into Men complementary program for high school female athletic teams. The curriculum aims to empower female-identified youth to take an active role in promoting healthy relationships and ending sexual violence. Athletes are encouraged to be leaders at school and in the community to change social norms and create a culture of safety and respect.
Current Partners: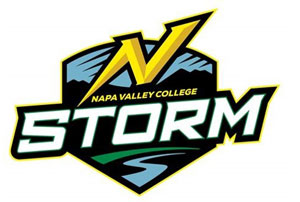 Our partnership with Napa Valley College began in 2018 through collaboration with the Storm Athletic Department to plan, implement and evaluate a gender-based violence prevention program with administration, coaches and athletes called, "Storm Against Violence."
NEWS About Sports is leveraging the success of our partnership with Napa Valley College to expand our prevention program across Napa County. We will continue to engage athletic departments within the Napa Valley Unified School District and community sporting organizations.
Coach Bailie
Coach Bailie is passionate about making Napa Valley a healthier, safer place for all people. She is a former athlete who believes that sport has a significant influence on culture and can be a powerful avenue for sexual violence prevention and education. Coach Bailie, a certified trainer in Coaching Boys Into Men and LiveRespect, is dedicated to helping youth and young adults gain life skills to more effectively negotiate relationships with their peers, challenge harmful cultural and social norms and decrease language and actions that lead to sexism, racism and homophobia within our schools and sporting organizations.
Join the team!
NEWS About Sports is currently recruiting schools, coaches and community organizations. Through interactive workshops and evidence-based violence prevention curriculum, NEWS About Sports gives leaders in the Napa athletic community the tools to engage athletes of all ages and train coaches as positive messengers for respect and advocates against violence in our community.
To join our team or bring a workshop to your school or organization, contact Coach Bailie for more information.

Proclamation to Napa County Board of Supervisors, April 2018
NEWS About Sports: Recognizing April As Sexual Assault Awareness Month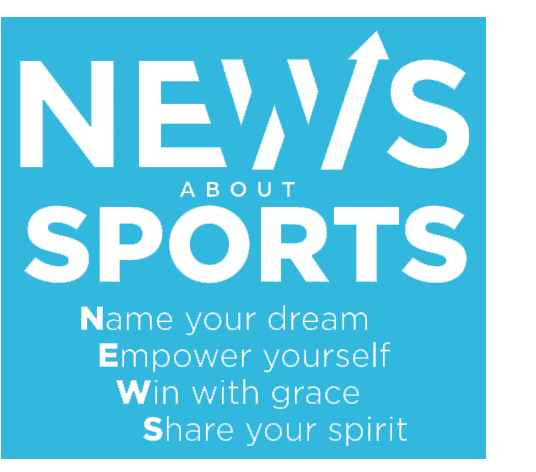 Across the Nation, April is recognized as Sexual Assault Awareness Month. This year we have seen the power of many voices coming together to say to the world, this is real, this is an all too common experience, and it must end now. 1 in 3 women and 1 in 6 men experience some form of contact sexual violence in their lifetimes. Unfortunately, and in rare instances, there have been incidents of sexual abuse in the context of youth sports, here in our own community. These incidents have involved both male and female victims. We do recognize that most coaches are an overwhelmingly positive influence in kid's lives. NEWS would like to support those coaches in that effort.
NEWS, Domestic Violence and Sexual Abuse Services, is joining a national movement to prevent sexual abuse. Raliance, a multi-state collaborative, funded by the NFL, with a bold initiative to end sexual abuse in one generation, has released a new report. Their research finds that by supporting coaches and parents involved in sports programs, with repeated positive pro-social messages, providers like NEWS can help the community increase positive social change and build protective factors against violence.
This year, we at NEWS, are introducing a local campaign we are calling NEWS About Sports. Positive youth development is a key factor in prevention. Youth sports is a pipeline for promoting confidence, character, connections and compassion, which are all protective factors against sexual and domestic violence. All kinds of coaches from Little League to College sport teams, are in a position of authority and can have a tremendous positive influence on the kids they coach. Our goal is to highlight and support local coaches who are already promoting an environment that teaches healthy respectful relationships, gender equity and positive character development.
This year we ask that the Board of Supervisors adopt just one declaration regarding sexual assault awareness month:
Whereas, NEWS is committed to the prevention of sexual abuse throughout Napa County, we the Napa County Board of Supervisors, support the efforts of NEWS, and ask the entire community to join in their effort, not only in April, but all year long, to bring parents and coaches together to be part of the effort to end sexual violence in one generation.
Our intention is that this effort will begin in the month of April 2018, but will continue to grow and spread throughout the years until it becomes a part of the culture of our community.
On behalf of NEWS and this nation-wide effort, we thank you for your support.