What were you wearing?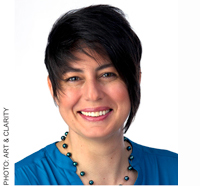 By Coach Bailie, NEWS Sexual Assault Victim Services Program Manager
I'll never forget the "ah ha" moment I had when I first learned about victim blaming. It was during an Introduction to Feminism class led by Bettina Aptheker at UCSC in the fall of 2002. The lecture on that day was Sexual Harassment: Race, Class and Sex and when she unpacked one of the most common victim-blaming questions survivors endure, "What were you wearing?" – My mind was blown.
Until that lecture, I had never thought about the implications of what that question meant, the harm it caused and the way it perpetuated myths about violence against women. As Professor Aptheker explained, "it is not about what you are wearing, and that is not the questions we should be asking. It is about the motive of the other person and why they are assaulting you. Clothing does not cause rape. Rapists do!" I never fully understood how victim blaming and rape myths operated until that moment.
She compelled us to examine the origins of this persistent myth about rape in our public consciousness and how it manifests throughout our culture. Studies have shown that individuals who accept and believe rape myths are more likely to engage in victim blaming. At its core, victim blaming is a practice of questioning what a victim could have done differently in order to prevent a crime from happening, thus implying that the fault of the crime lies with the victim. Examples include suggesting that an individual provoked an attack, got robbed because they traveled through a "bad" neighborhood, or somehow invited sexual assault by getting too intoxicated or wearing provocative clothing. While it is absurd to believe that clothing can provoke or prevent aggression, it is that reasoning that is used to justify rape and shift blame from the perpetrator to the survivor. This sentiment is reflected all over in our culture – from the movies and television we watch to the attitudes of judges who preside over sexual assault cases, survivors of rape and sexual violence are often blamed for their own victimization.
These myths and tactics have grown out of long-standing gender roles, acceptance of violence and incorrect information concerning sexual violence that exists in our society. Not only that, victim-blaming shames survivors into silence and widespread misconceptions around sexual violence can make the healing process all the more arduous for survivors. Victim blaming can perpetuate feelings of shame and also decrease the likelihood that a survivor will seek help and support, due to fear of being blamed or judged for their role in the assault.
The work of sexual violence prevention educators is so important because of the way it challenges these pervasive myths and educates people about the root causes of sexual violence in order to promote culture change. They also help create environments where victims feel comfortable accessing resources and help without judgement and blame.
Sixteen years after learning how victim blaming operates in our society, I found myself in the position of educating our community on this topic through the Sexual Assault Victim Services department at NEWS. During Sexual Assault Awareness Month (SAAM) in April 2019, I had the privilege of bringing the "What Were You Wearing?" Survivor Art Installation to Napa. This installation provides a tangible response to one of our culture's most pervasive sexual assault myths and asks participants to understand that sexual assault is never about the clothing.
"What Were You Wearing?" has been curated on college campuses across the country featuring outfits recreated from the stories of student sexual assault survivors. The project, inspired by a poem written by Dr. Mary Simmerling entitled What I Was Wearing, details the outfit she was wearing when she was sexually assaulted: a white t-shirt and a knee-length denim skirt. The exhibit challenges viewers to evaluate what enables us as individuals to blame victims through the question, "what were you wearing?" and to see themselves reflected in not only the outfits, but also the survivor stories. This realization moves us away from blaming the victim for violence and places responsibility where it belongs, on those who cause harm. The Installation challenges participants to engage with the universal connection we have with clothing and reflect on what gives this specific rape culture myth so much power.
Each year for SAAM, the "What Were You Wearing?" installation is on display at Napa Valley College. The feedback from the community has been overwhelmingly positive. Amber Wade, Chief of Police at Napa Valley College, said this about the annual exhibit, "the hope is to continue to open people's eyes about sexual violence, remind them that this problem exists everywhere, and help victims know they are not alone and we believe them and support them." Some viewers have noted how it has helped them to create healthy attitudes and beliefs regarding the common "clothing causes sexual violence" myth and reflect on the ways they blame victims of sexual assault. "You hear about cases of assault every so often in the media or friends, but to read all of those submissions and physically recreate them through clothing made me realize that this really can happen to anyone, anywhere, by anyone, and what someone is wearing has nothing to do with it," one viewer noted. Survivors who have seen the exhibit also report feeling heard, validated, believed and assured that assault was not their fault.
I'm proud of the opportunity to join a long lineage of sexual violence prevention educators across the globe who have been fighting for culture change around rape myths and victim blaming. When we are able to change people's attitudes and beliefs around these issues, we create the conditions where victim blaming cannot exist and those who do harm are held accountable for their behavior. As we strive to shift away from societal attitudes that blame survivors, I encourage you to:
Challenge yourself and others to avoid language and thoughts associated with victim blaming.
Critically evaluate media content that promotes male and female gender stereotypes and encourages victim blaming
Support survivors by verbalizing and acting in a way that lets them know that what happened to them was not their fault.
Hold people who do harm accountable for their behavior.
Support your local Rape Crisis Center, like NEWS, so sexual violence prevention educators like me can continue our important work!
By making these changes at the individual, community and institutional level, we can all play a part in providing sexual assault survivors with the respect, dignity and support they deserve.
To view the What Were You Wearing online gallery click HERE and scroll to the bottom of the page.