Events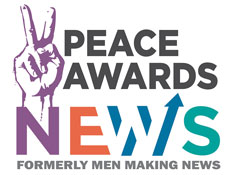 NEWS is pleased to announce that the NEWS Peace Awards event (Formerly Men Making NEWS) will be held on October 24, 2019. 
To acknowledge the strength and worth of exceptional men guiding our community in Napa County who change the lives of families and youth for the better, NEWS started holding the event, Men Making NEWS, 13 years ago. In 2017 the category of Peace Officer of the Year was added, and Coach of the Year was added in 2018, to go along with our established awards of Young Man of the Year and Male Role Model of the Year. With these additional  non-gender awards, it was time to change the name of our event to emphasize non-violence. Two additional awards are given by the NEWS staff for NEWS Champion of the Year, and the NEWS Hope Award for a local business. 
Awards Ceremony
The awards will be presented during a recognition reception to be held at Embassy Suites on Thursday, October 24th, 5:30-7:30pm. Please save the date and make sure that you and your nominee will be able to attend the event.
---
Events Archive