Kids Exposed to Domestic Violence Services (KEDS)

Para Español vaya AQUI.
Many children still thrive despite exposure to Domestic violence… those who do have the understanding and support of family and friends and access to services.
Our Mission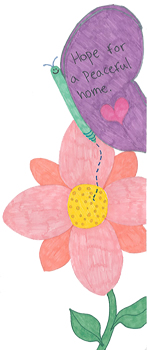 To help children heal from the trauma of Domestic Violence
To support and empower their parents
To increase community awareness of Childhood Exposure to Domestic Violence (CEDV)
KEDS Offers
Support Groups for Children
Counseling Services
Resource information & Referrals
Assistance with applications for children's services
Children's activities in NEWS office and Shelter
Crisis intervention
Outreach & Education
All Services are free, bilingual and confidential.
The ultimate goal of the KEDS Program is to help children and families heal from their exposure to domestic violence and to prevent future violence. Children who have been exposed to domestic violence often learn the destructive lesson that it is acceptable to use violence and emotional abuse in relationships. As a result, these children are more likely to use or to expect abuse and violence in their own relationships as adults… continuing the cycle. However, with early intervention and support, a brighter, violence-free future is possible.
For more information on the KEDS Program please call the NEWS office at 707-252-3687.
"Hugs can do great amounts of good, especially for children." ~ Princess Diana