Teen Dating Violence Awareness Month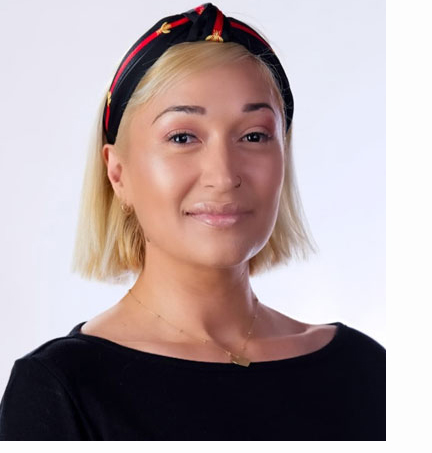 Teen Dating Violence Awareness Month (TDVAM) is a month-long campaign dedicated to raising awareness about teen dating abuse. Every February, young people and their loved ones join together across the country for a national effort to raise awareness about the issue of teen dating violence. Congress declared the month of February to be National Teen Dating Violence Awareness and Prevention Month in 2010.
Here at NEWS we plan a busy month of prevention activities and presentations. This year we will be holding #orange4love tabling events at American Canyon Middle, Unidos Middle, New Tech High, Vintage High, RLS Middle, and Calistoga Junior-Senior High. Many of these events are coordinated with school clubs, youth groups, and after school programs.
Listen to KVON 1440AM and KVYN 99.3FM radio for our ads in English and Spanish, and don't forget to check out our social media posts throughout the month on Facebook and Instagram!
Remember if you or someone you love needs support or advice we have our confidential YOUthMatter Healthy Relationship Coaching that can be accessed at your local Middle/High school Wellness Centers. Click HERE for more information. Let's talk about it!
In gratitude,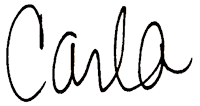 Carla Andrade-Maston, NEWS Youth Prevention Services Manager
---

Join our #orange4love partner, La Cheve Bakery and Brews, at 376 Soscol Ave in Napa, and grab an orange conche to show your support!
---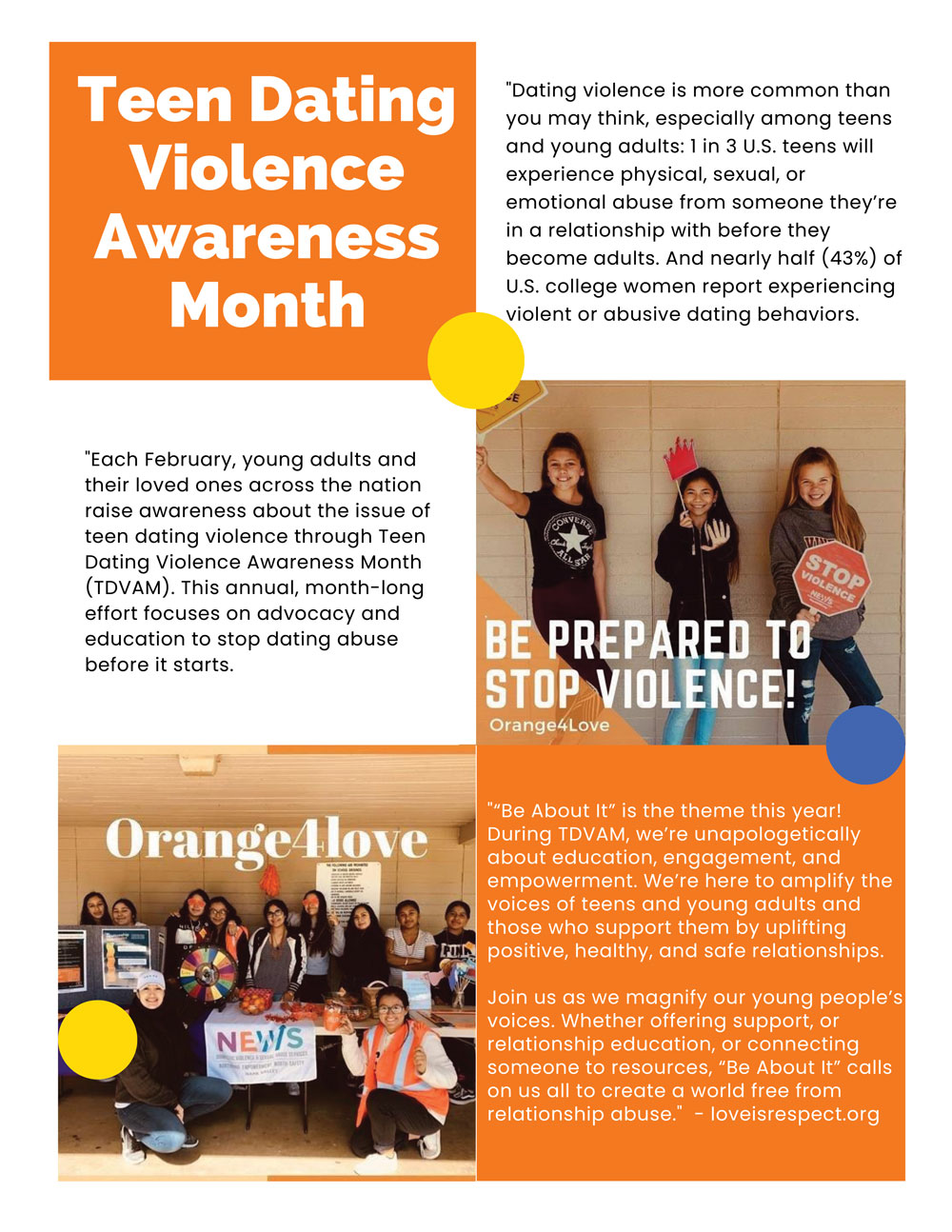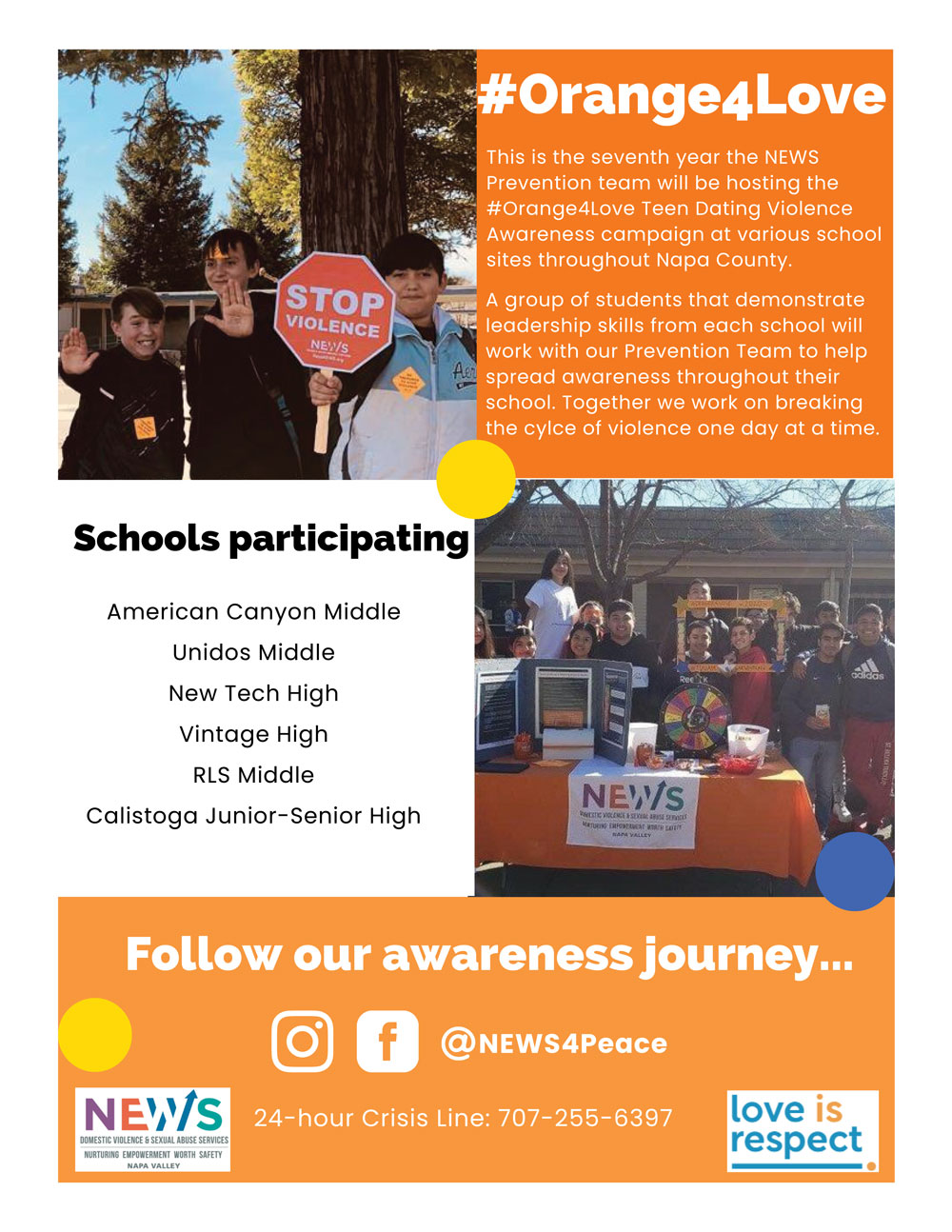 For more information about our YOUthMatter healthy relationships/coaching services, please click HERE.
---
Download our #orange4love ZOOM virtual background for your meetings and classes!
Just click on the thumbnail below. Once the larger image appears on your screen, right-click on the image and choose "Save image as..." from the dropdown menu. Save the image to your device and set it as your Zoom background for the month of February!
Click HERE if you don't know how to use a virtual background in a Zoom room.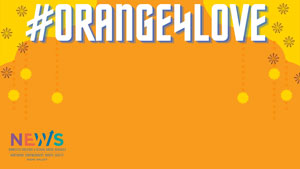 ---
1 in 3 teens in the United States will experience physical, sexual, or emotional abuse by someone they are in a relationship with before they become adults. And nearly half (43%) of college women report experiencing violent and abusive dating behaviors.
LGBTQ+ specific support
Black, Indigenous & communities of color specific support
Heart: ensures that Muslims have the resources, language, and choice to nurture sexual health and confront sexual violence.
hearttogrow.org
StrongHearts: 24/7 free, confidential, and culturally-relevant support for Native American and Alaska Native teens and young adults experiencing dating abuse and sexual violence. Call 844-7NATIVE (762-8483) or chat live at strongheartshelpline.org.
---